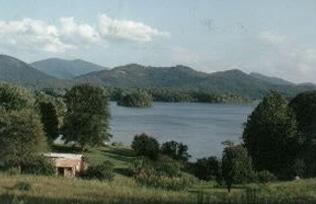 Tucked away in the northeast corner of Georgia and the western edges of North Carolina is an area of natural beauty and heritage of Appalachia. Lush forests, cool lakes and rushing water roars.
Towns County was formed in Georgia in 1856 from parts of Union and Rabun Counties. It was named for George Washington Bonaparte Towns, governor of Georgia from 1847 to 1851. Two thirds of Towns County lies within the U.S. National Forest.
Young Harris was originally named Young Harris College in honor of Judge Young Loftin Gerdine Harris of Athens. It was soon shortened to Young Harris although Young Harris College is located there.
Hiawassee is a Cherokee word meaning "meadow". Lake Chatuge is located in the northern part of the county and reaches into North Carolina. It is a storage facility for the Tennessee Valley Authority and is also a public preserve.
Lake Chatuge is a 7,500-acre man-made reservoir that was created in 1942 after the Tennessee Valley Authority built the Chatuge Dam to create a system of flood control and provide usable hydroelectric power. The Chatuge Dam allowed the area to fill naturally and created Lake Chatuge's numerous peninsulas and private coves with magnificent locations for swimming, boating, and other water sports. The unsurpassed beauty of the lake created by the dam inspired people to name North Georgia's valley that contains Lake Chatuge The Enchanted Valley.
On the north side of The Enchanted Valley are mammoth mountain ranges in the Nantahala National Forest and on the south and east sides are the peaks of the Chattahoochee National Forest. Lake Chatuge is situated in the center of The Enchanted Valley with 128 miles of lake shoreline plus four miles of island shoreline for a total of 132 miles of enjoyable lake shores.
The entire region surrounding Lake Chatuge is famous for year-round trout fishing in numerous streams and rivers. The lake itself is loaded with bass. The area hosts several bass fishing tournaments and was proud to host the 2018 BassMaster Classic which is the Super Bowl of bass fishing. Fishing licenses are required. A great way to have fun exploring Lake Chatuge is to enjoy a leisurely cruise on a pontoon boat. Pontoon boats and other recreational boats can be rented at various marinas on Lake Chatuge.
The Hiawassee and Young Harris area offers championship golf, hiking, horseback riding, fishing, water sports, tennis, and pickleball as well as arts, crafts, antiquing, concerts, fairs and festivals.